In today's edition of Purple Line NOW News, here's what you'll find:
What's Happening at PLN?
Purple Line in the News
Features & Highlights


Purple Line (Model) Light Rail Vehicle on the Move!
The Purple Line and the Local Business Community
Suggestions for Next Purple Line NOW Forum

Construction News

More Information on the Constructor Hiring and Schedule
Photos Around the Purple Line Corridor
Share This Newsletter
Please feel free to share this newsletter - no permission from us needed! You can always find a link to our newsletter on our Purple Line NOW website which makes it easy to share with your friends, neighbors, constituents, customers, and employees.
| | |
| --- | --- |
| |    WHAT'S HAPPENING AT PLN? |
Please Help Us Continue Our Work
Each year, we ask you to consider a donation to Purple Line NOW which helps us continue to offer events like our online webinars which are always free of charge to all participants, as well as this information-packed newsletter, along with answering many of your questions and staying on top of what is going on throughout our corridor as it relates to the project as a whole.
Purple Line NOW was fortunate enough to be the recipient of a generous matching donor last winter and you stepped up to help us during that campaign which has seen us through a difficult year. It will be time to ask anew in the fall, so we hope at that time, if you are able, you will consider supporting us with a financial donation.
We do not host special event fundraisers, nor do we receive underwriting grants from any source, government (local or otherwise), nor are we a membership organization (we do not ask for annual dues). We rely solely on support from donors like YOU!
Remember, with your donation, your name (or your business name) will be listed on our website, as well as in event literature and signage for a year following your donation.
As always, a great big thank you to ALL OF OUR DONORS! We simply could not do our work without your support. If you don't see your name on our website link, you can donate by clicking the purple button below.
Thank you, thank you! Especially after the year from which we are all slowly emerging, a great big THANK YOU!
| | |
| --- | --- |
| |    THE PURPLE LINE IN THE NEWS |
New Purple Line contractor should be in place by February (K. Shaver, Washington Post, September 8, 2021)
Purple Line payment is approved; Contractor Timeline Slides to 2022 (B. DuPuyt, WTOP, September 16, 2021)
| | |
| --- | --- |
| |    FEATURES & HIGHLIGHTS |
Purple Line (Model) Light Rail Vehicle on the Move!
Right now you can see the Purple Line Light Rail Vehicle model at the Long Branch Library. If your library or municipal building in either Prince George's or Montgomery County would like to host the model, contact the Purple Line Outreach Team at [email protected]!
The Purple Line and Local Business Communities
In case you missed this in our prior newsletters, the Maryland Purple Line project management office is standing up a Business Engagement Team. If you have a business along the line or know someone who does, the team is available to help foster relationships. The team consists of:
Lesli Leath, Business Relationship Manager,

 

[email protected]

, 1-240-695-9269
Minh Diep, Business Engagement Officer for Montgomery County,

 

[email protected]

, 1-551-206-5889
Marlene Veras, Business Engagement Officer for Prince George's County,

 

[email protected]

, 1-443-802-1608
What Would You Like to See At the Next Purple Line NOW Forum?
We are beginning to think about the next Purple Line NOW forum, set to occur sometime later this fall. What would you like to know more about? General updates? Specific focus areas? Campus and the Purple Line highlights? Send your ideas to [email protected] and we'll try to make it happen! 
| | |
| --- | --- |
| |    CONSTRUCTION UPDATES |
More Information on the Constructor Hiring and Schedule
Just as Purple Line NOW News went to press two weeks ago, news broke in the Washington Post announcing that the new project builder should be chosen by the end of the year and in place by February.
We have seen more great reporting, this time from Maryland Matters, on updates to the Purple Line constructor selection process approved at the September 15 Maryland Board of Public Works meeting. As we covered in our last newsletter, the plan is for the new constructor to be in place by mid-February with bids from the three competitors due later in September.
Maryland Secretary of Transportation, Gregory Slater reported that all three bidders, Halmar International, Maryland Transit Solutions (a joint venture of Dragados USA and OHL USA), and Tutor-Perini/Lunda had requested additional time to understand the existing work. The state also is prepaying a $313 million private activity bond to smooth the way for the selection process.
According to the article, Secretary Slater explained that, "today the banks have final sign-off on the builder that we select. Our interest is in the best long-term success of the project — and that doesn't always align with the bondholders." The state will have to pay a prepayment penalty, but does not expect any net increase in costs because of lower interest rates. In the meantime, the state will continue to conduct construction activities like utility relocation that keep the project moving forward and reduce risks, and thus encourage lower bids from the three competitors.
Purple Line NOW supports the emphasis that Secretary Slater and the Board of Public Works put on making sure the incentives are right for picking a construction partner. PLN Vice President Greg Sanders noted "In choosing a new constructor, Maryland and the consortium have to balance cost, technical capacity, and the time to opening day. Taking some time to get this right and removing potential obstacles makes sense, and the ongoing construction work led by the Purple Line project team shows that the state is continuing to make progress and reduce risk." PLN President Ralph Bennett added, "Maryland remains rightly committed to completing the Purple Line and the new residences and developments along the line, even in these trying circumstances, show the wisdom of that commitment. We will have high expectations of the new builder as they finish this line that is vital for our communities and minimize the disruption resulting from this prolonged process."
Photos from Around the Corridor
Crews continue to work hard throughout the corridor. Thanks to MDOT MTA for the photos.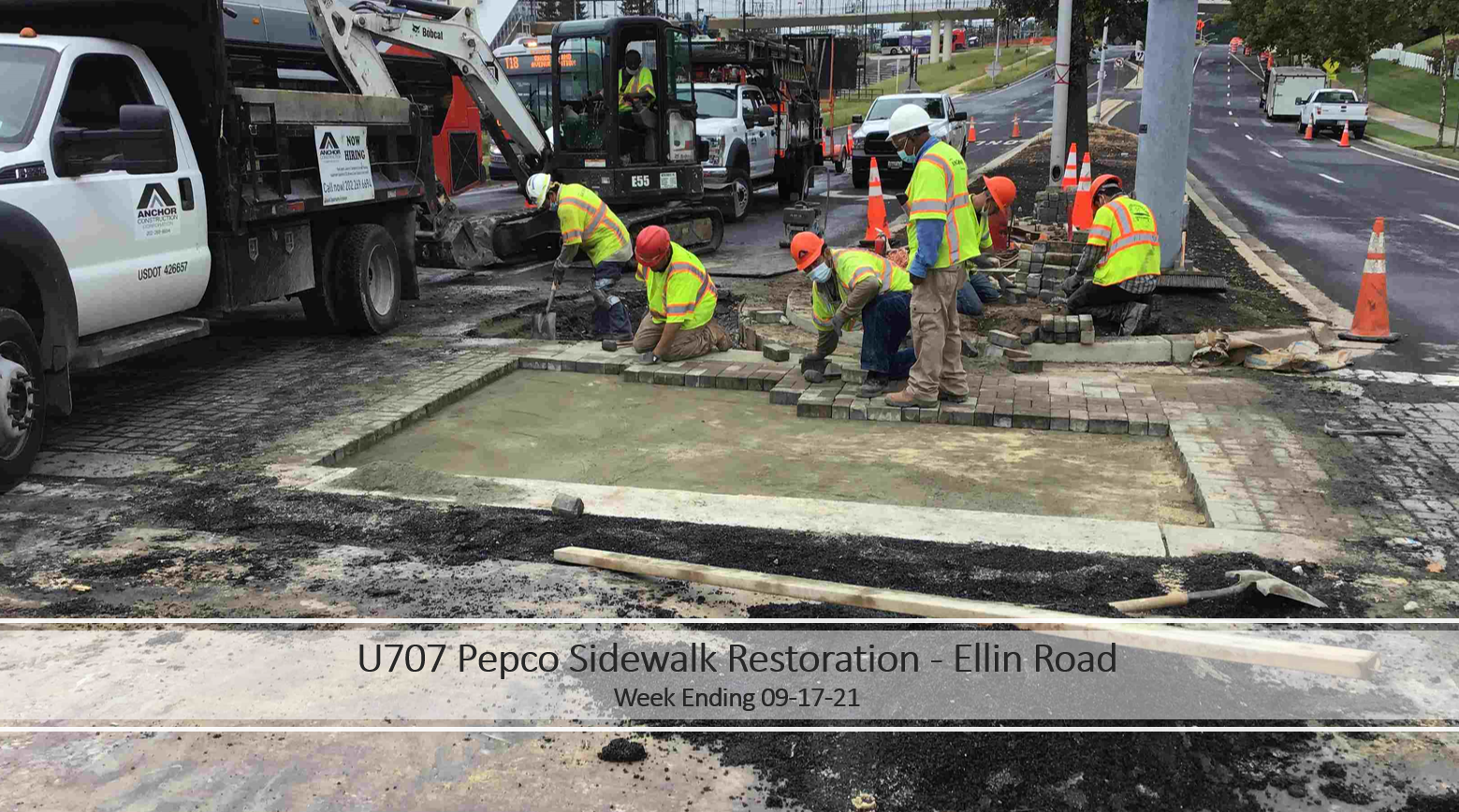 | | |
| --- | --- |
| |    STAY CONNECTED |
Get Connected
Make sure you are signed up for timely alerts from Purple Line NOW via our Twitter and Facebook pages, and at our website Purple Line NOW.
Do you like this post?