In today's edition of Purple Line NOW News, here's what you'll find:
What's Happening at PLN?

Mark Your Calendars for May 4!
Thank you to ALL OF OUR DONORS!

Purple Line In the News
Photos From Around the Corridor
Federal Funding for the Purple Line
Purple Line Opponents Appeal Court Decision
Share This Newsletter
Please feel free to share this newsletter - no permission from us needed! You can always find a link to our newsletter on our Purple Line NOW website which makes it easy to share with your friends, neighbors, constituents, customers, and employees.
| | |
| --- | --- |
| |    WHAT'S HAPPENING AT PLN? |
Mark Your Calendars!
Plan to join us on Tuesday, May 4, from 7:00 pm to 8:30 pm for the next forum in our Envisioning the Purple Line Series -- this one will be a status update of the whole project and we are busy confirming a great slate of panelists for you!
As we announced earlier this month, Maryland Secretary of Transportation, Gregory Slater, will be our keynote speaker, and will bring us up-to-date on what's happening along the line, the timeline going forward, and other bits of interest to all of us who are eager to get to that first ride. Secretary Slater's remarks will be followed by a panel discussion with key Purple Line leaders including Matthew Pollack, MDOT MTA Executive Director of Transit Development and Delivery. We'll be announcing other panelists soon, but take a moment to mark your calendars so you can join us on May 4! 
The event will be held virtually and you must sign up for the webinar in advance. Stay tuned for the official invitation which will have a sign-up link -- coming soon! 
Thank you to ALL OF OUR DONORS!
Once again, we want to thank all of our donors -- those listed on our website and those who wish to remain anonymous for stepping up over the last few months to take part in our matching gift campaign. A very special thanks to our matching campaign sponsor who renewed their devotion to our cause by offering this matching gift campaign for the second year running!
Your donations will help us continue this newsletter this spring and summer, host the above-mentioned forum in May, and continue our work of staying abreast of the news and connecting residents' issues to problem solvers. 
We know this is a tough time for everyone and we are doubly grateful for your help during this difficult year. You've heard us say before that we do all of our work -- the newsletters, the forums, and the outreach -- on a very skinny budget, less than $20,000 a year. Until we take that first Purple Line ride, Purple Line NOW will do our best to continue our work. If you didn't have a chance to contribute during the matching campaign, your donation is no less significant or impactful to us and we appreciate your kindness. You can donate by clicking the purple button below.
A reminder: Purple Line NOW does not receive underwriting grants from any source, government (local or otherwise), nor are we a membership organization (we do not ask for annual dues). Remember, with your donation, your name (or your business name) will be listed on our website, as well as in event literature and signage for a year following your donation.


| | |
| --- | --- |
| |    THE PURPLE LINE IN THE NEWS |
Purple Line opponents argue that construction violates federal water protections (K. Shaver, March 11, 2021, Washington Post)
Federal American Rescue Plan includes millions for county, transit, education (B. Adhikusuma, March 29, 2021, Bethesda Magazine)
| | |
| --- | --- |
| |    FEATURES & HIGHLIGHTS |
Some photos from work happening around the Purple Line corridor from MDOT MTA: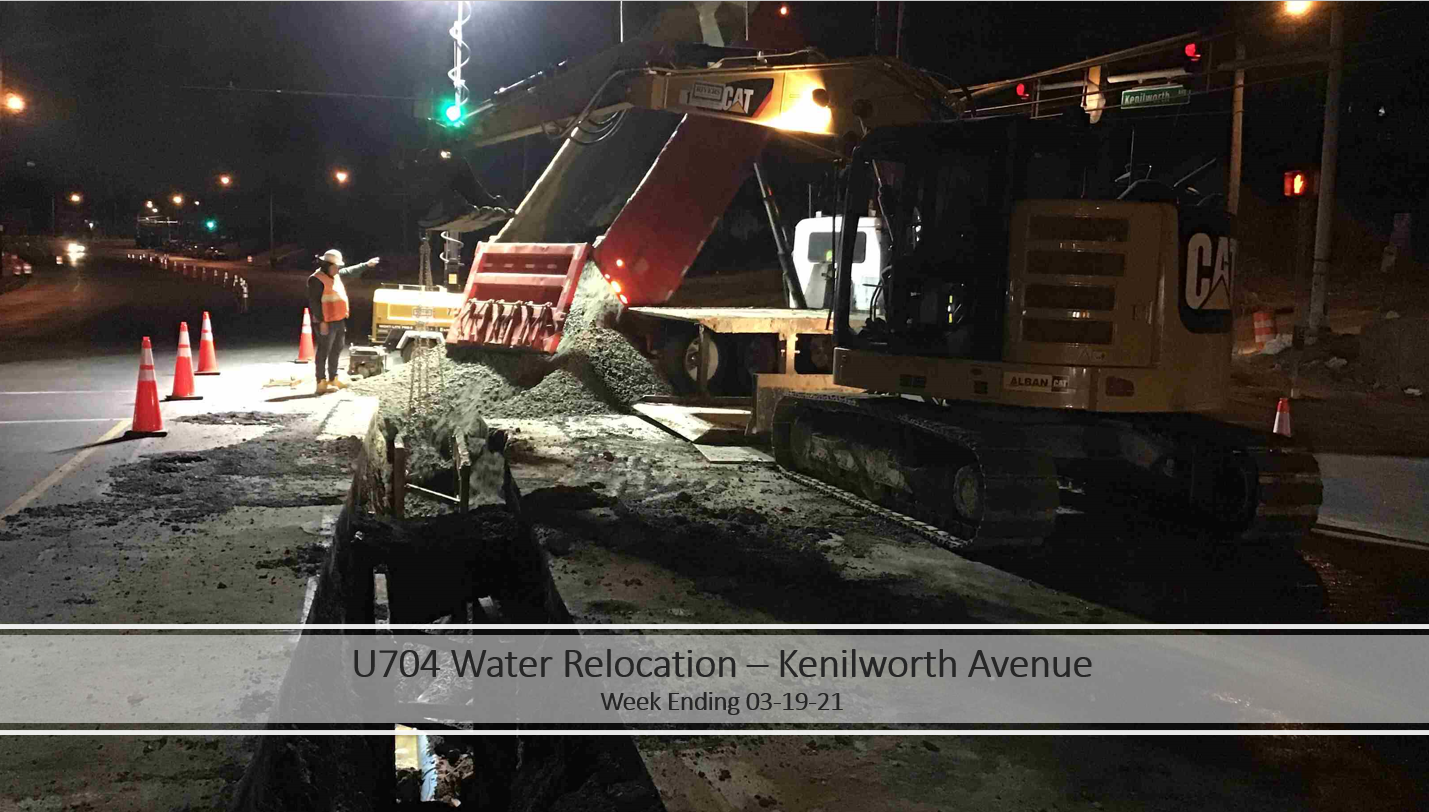 | | |
| --- | --- |
| |    CONSTRUCTION UPDATES |
Federal Funding for the Purple Line
Did you know that the Purple Line is expected to receive $106 million from the American Rescue Plan stimulus package that was signed into law last week? According to a joint press release issued by Maryland's Senators Ben Cardin and Chris Van Hollen, "The funding will help keep the Purple Line on track for completion in spite of challenges the State has encountered with the project. This funding will bring the total federal allocation for the Purple Line to more than $910 million since 2009." 
You can read more here: Federal American Rescue Plan includes millions for county, transit, education(B. Adhikusuma, March 29, 2021, Bethesda Magazine)
Purple Line Opponents Appeal Court Decision
Last week, opponents of the Purple Line appealed their final lawsuit, this one against the U.S. Army Corps of Engineers, arguing that permits were improperly allowed and thus violated the Clean Water Act.
It is important to note that their arguments were soundly rejected last spring by a U.S. District Court. In fact, according to a Washington Post article, U.S. District Judge Bredar rejected the opponents' arguments, saying the "state had clearly demonstrated that the Purple Line design under construction was the 'least environmentally damaging practicable alternative.'" (K. Shaver, Purple Line opponents argue that construction violates federal water protections, March 11, 2021.)
According to the same article, "Lawyers for the Corps and the Maryland Transit Administration said 'the Corps correctly relied upon the expertise of the Federal Transit Administration in its approval of the project's required environmental impact study.'"
Purple Line NOW does not expect the ruling by the District Court to be overturned as these supposed environmental objections to the Purple Line have been repeatedly rejected in court by a wide range of judges.
| | |
| --- | --- |
| |    STAY CONNECTED |
Get Connected
Make sure you are signed up for timely alerts from Purple Line NOW via our Twitter and Facebook pages, and at our website Purple Line NOW.
Do you like this post?